8/1/2022 1:22:27 PM
The old saying goes, "Use the right tool for the job." That largely depends on if you're a professional snow remover or a homeowner. The biggest difference between the average homeowner's snow blower and a professional's is the volume of cleanup after each snowfall. A homeowner is likely clearing their property, plus, maybe a neighbor's - probably spending about 30 minutes to an hour in total. Professionals, on the other hand, remove snow all day and need to have the most powerful snow blower that's not only reliable and durable but versatile for multiple applications from driveways to narrow walkways.

Here's 7 things to consider in selecting the right snowblower for your business:

1. Reliability is priority
The best and most reliable snow blower on the market, starts in knowing its construction material. Avoid snowblowers built with plastic. Always pick models constructed from steel. Diving in deeper, research the quality and the steel thickness of the brands sold in snow blower dealerships. For example, all Ariens® professional snow blower models are built with non-recycled steel. All snow blowers have handlebars, housings, chutes, etc., but the designs have a lot of variation between brands. For example, handlebar geometry - turning under heavy snow loads applies stress to the handlebars, which is why Ariens updated its professional models to have stronger, welded handlebars with thicker steel – an upgrade from the tube designs on residential models.

2. Power = speed
The more power a snow blower has, the faster it throws high volumes of snow. The faster a snow blower throws, the quicker it can get to the next job. Snow blower engine power was once measured in horsepower, but the new standard is to advertise a snow blower engine by its displacement in cubic centimeters, or CCs. An engine's displacement is the distance its piston(s) travel through an engine cylinder (the stroke), multiplied by the diameter of the cylinder (the bore). The longer the stroke and the larger the bore, the greater the displacement. Simply said, the greater the displacement, the greater the power of a snow blower engine. All Ariens Professional snow blower models feature 420 CC engines, enough power to move up to 102 tons of snow per hour with the 36-inch model. To put it into perspective, most of the smaller, residential Sno-Thro® models in the Ariens lineup have about half as much displacement and they're still tossing snow dozens of feet away.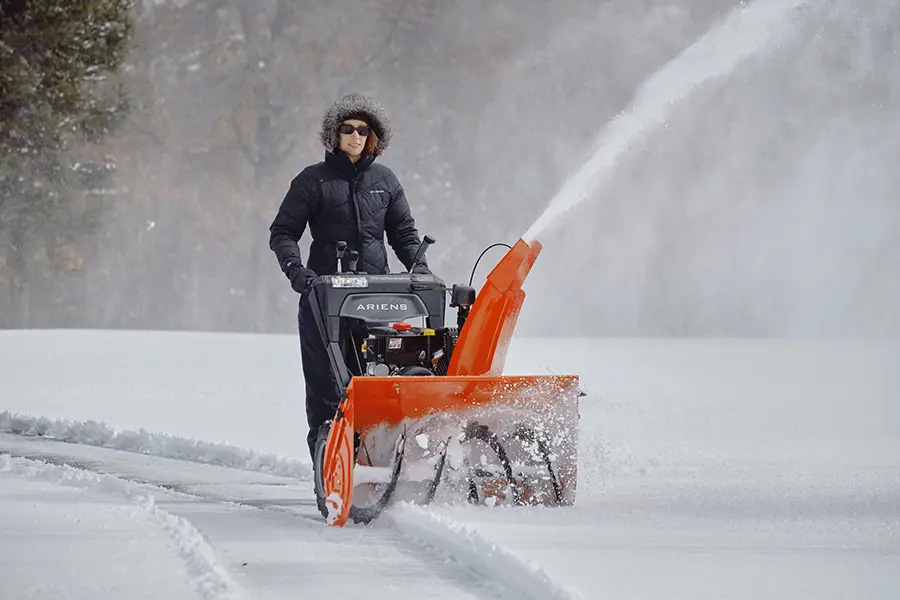 3. Efficiency features
A lot of snow blowers will advertise certain features that could be categorized as "bells and whistles," but what are features to look for in a professional snow blower? The most important ones increase efficiency allowing professionals to:
cover more jobsites in less time
finish long days earlier
spend less on maintenance
So, what are considered 'efficiency features?'

Hydrostatic Drive - A hydrostatic or hydro snow blower can speed up or slow down without stopping and shifting. Hydrostatic snow blowers allow the operator to change the drive speed of their snow blower by simply moving a lever forward or backward – while the unit is still moving. This is very different from friction-drive models that require stopping before shifting to another speed.

Electronic Fuel Injection (EFI) - EFI snow blowers save fuel, start more easily, save time and are easier to maintain. A few years ago, Ariens introduced the first-ever EFI. EFI uses a computer that calculates an optimal fuel and air mixture that makes the engine start more easily. This is why EFI snow blowers usually start on the first pull. EFI engines are fuel "sippers" and run longer on the same amount of fuel compared to a carbureted/conventional snow blower engine. Fewer stops to refuel equals more time and money saved. In carbureted (non-EFI) engines, fuel can oxidize and turn into a gel that can clog a fuel system. To prevent oxidation, we recommend adding a quality fuel stabilizer to the fuel tank. If the fuel system does get clogged, your engine won't start, your clients will be calling other professional snow removal companies and you'll be stuck with repair bills. EFI snow blowers don't require those preventative steps and aren't prone to fuel oxidation issues. Learn all the benefits of EFI snow blowers.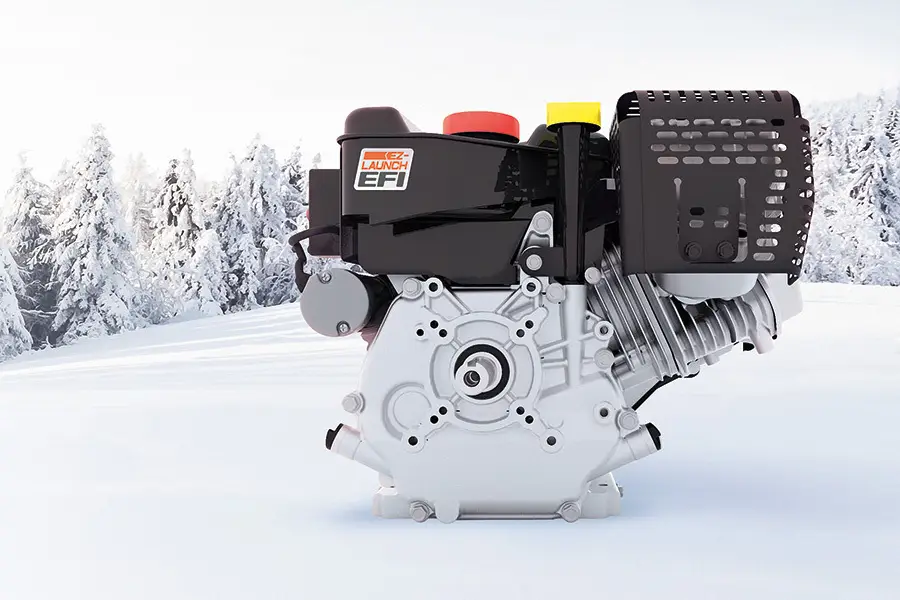 4. Maneuverability
Tight-turned narrow walkways, a late-night layer of freezing rain are two common examples of why maneuverability is another key purchasing factor. Luckily, Ariens offers RapidTrak™ - an all-in-one system where users choose among maneuverability, extra traction, or extra scraping ability – all in a single snow blower. The RapidTrak track snow blower is available on 28-inch and 32-inch Ariens Professional snow blowers and is versatile to work on both flat and steep driveways. Use track mode for superior grip with the speed of a wheel unit or shift to wheel mode for extra maneuverability. For hard-packed snow, dig-in mode pitches the auger housing downward for more effective scraping.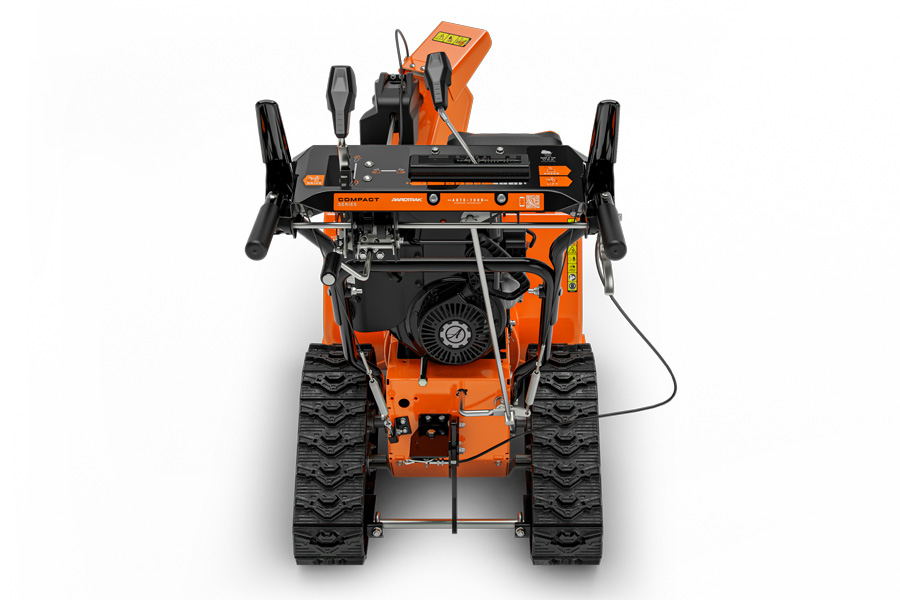 5. Size matters
Not all jobs, especially those in tight metro areas, need large machines. Two-stage snow blowers can't fit into every space, sometimes making commercial single-stage snow blowers the best option. With the power, strength, reliability and durability of its larger counterparts, the Ariens Professional 21 is the best small snow blower for professionals clearing light to moderate snowfalls in smaller spaces because it was designed to match professional specifications. Reinforced with all-steel construction, the Ariens Pro 21 withstands jostling around a truck or trailer bed and still performs to expectations at numerous jobsites. Thick, high-wear paddles scrape surfaces clean use after use with less frequent replacement. Unique handlebar geometry allows a user to load and unload the Pro 21 onto and from a truck bed by themselves. Additionally, oil changes and engine maintenance are quick and easy because of the unit's accessible engine.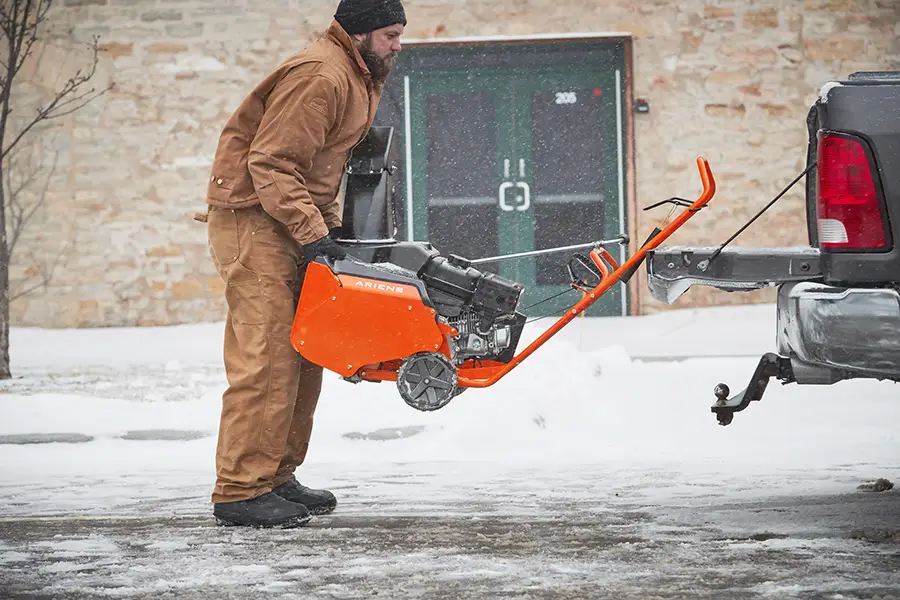 6. Brush vs. blade
When clearing lighter and slushier snowfalls in areas with heavier pedestrian traffic like metro areas and college campuses, commercial power brushes are sometimes preferred because power brush discharge is typically low to the ground, lighter and more evenly dispersed. Additionally, their high-strength nylon bristles help ensure a clean sweep down to the surface. The technology of an Ariens power brush is nearly identical to Ariens Sno-Thro models, mimicking their strength, power and reliability. Available in 28- and 36-inch widths, both models feature adjustable brush heads that can be positioned straight forward or 20 degrees to the left or right. Like with certain professional snow blower models, the Hydro Brush 36 model has a hydrostatic transmission and doesn't need to be stopped to speed up or slow down.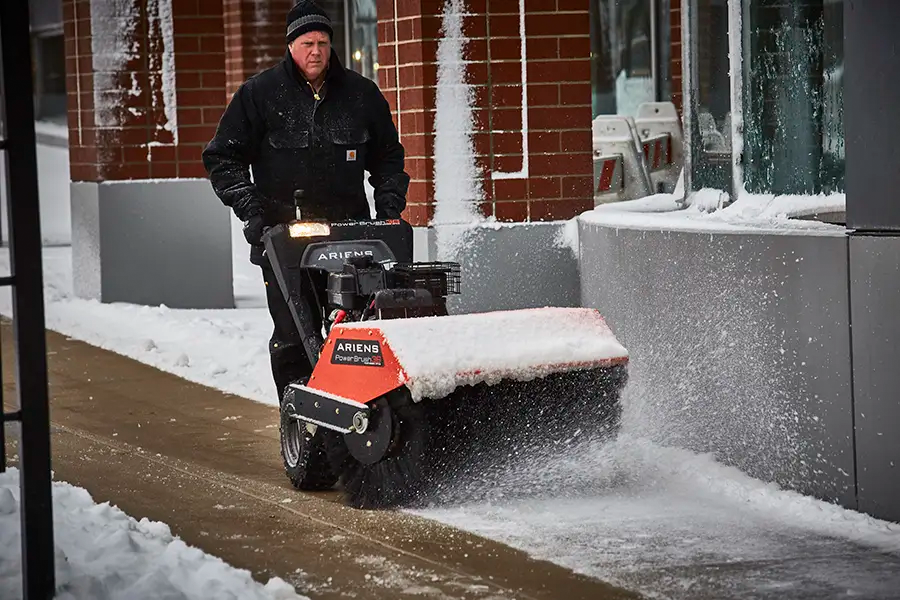 7. All-In-One
Some brands offer an all-in-one type of commercial snow and ice removal vehicle. If you're clients require clearance of large areas such as parking lots or city sidewalks, an all-in-one may be best for you. These vehicles offer different snow/ice removal attachments that can be easily switched out. All-in-one vehicles offer more power and speed for clearing large areas. A stand-on snow removal vehicle takes away the physical stress a walk-behind snow blower puts on the operator, which is perfect for a business that must remove snow quickly and at high volumes. For example, the Ariens Mammoth 850 is a four-wheel-drive stand-on vehicle with useful attachment options (v-plow, snowblower, blade, power brush, brine de-icing system, salt spreader). The Mammoth boasts a 28.5hp Kawasaki 850V-EFI engine perfect for the professional who needs to clear an immense amount of snow.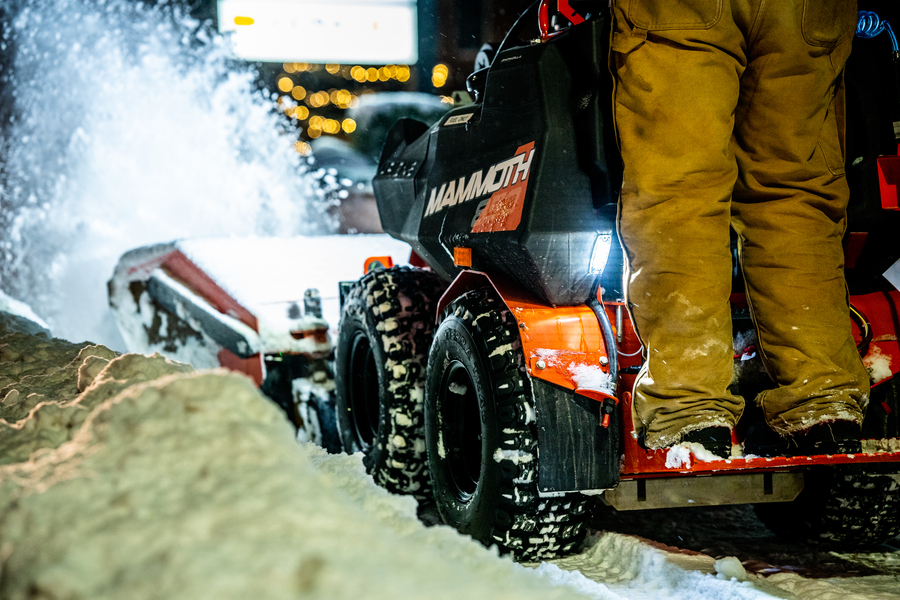 So, to recap:
There's no replacement for displacement, meaning engine size. Look for professional snow blowers equipped with an engine of at least 400 CCs.
Pick a snow blower clearing width that fits the properties you're servicing. Biggest can be extremely efficient but it isn't always the best option for clearing diverse areas like narrow walkways.
Working fast and with the least expense possible is paramount in the professional snow removal business, and this is achieved through innovative features. An Ariens Professional RapidTrak EFI model is your best solution in snow blower efficiency this season.
Professionals needing to clear large areas/amounts of snow may benefit from a more powerful, faster all-in-one vehicle vs. a regular commercial snow blower.
Pick a snow blower brand that has a reputation for building reliable products and a brand that builds snow blowers with quality material and a quality American workforce.
Visit your nearest Ariens snow blower dealer to learn more about commercial snow clearing equipment.