2/26/2019 6:00:00 AM
​Lawn mowers that cut the best
Zero turn vs la​​​​wn tractor
Riding lawn mowers have traditionally been the most popular lawn care products for homeowners because of strong brand name appeal, but they lack in substance. With thinner steel, thin stamped decks and little to no comfort, homeowners are switching over to a new kind of riding lawn mower.
Unlike lawn tractors, zero turn mowers can be built with thick, more durable steel frames, stronger decks that result in a better cut quality and added comfort features. Additionally, the zero turn lawn mower design offers a massive time savings over mowing with a lawn tractor.​
What is a zero turn l​awn mower?
Zero turn lawn mowers do exactly what they sound like they can do. It's a lawn mower that has a zero-degree turning radius, meaning it can turn on a dime. These mowers can literally spin 360s in one spot because of their superior technology.
Advantages of ze​​ro turn lawn mowers​
Zero turn lawn mowers are built to be comfortable. For example, most Ariens zero turn lawn mowers come with a high-back, plush and adjustable seats. Some mowers in their lineup even include plush armrests. Additionally, the controls are all positioned in ergonomic and easily accessible locations so the operator can simply enjoy the ride.
Zero turn lawn mowers save time. The wide range of deck size options in a zero turn lawn mower allow homeowners with both small yards and multi-acre yards to cut their lawns much faster than they could with a lawn tractor. In the Ariens lineup, homeowners can choose a deck as small as 34 inches or as large as 60 inches across.
The ability for a zero turn lawn mower to turn on a dime reduces the need for the extra maneuvering. Get to the end of your cutting row, make a quick 180-degree turn, align the deck edge with the row just cut and keep going. With a lawn tractor, that requires a turn, backing and another turn. This is time lost, and that time adds up fast for each row of grass that needs to be cut.
Zero turn lawn mowers are more durable. This depends on the brand, but zero turn mowers are generally built with thicker steel than lawn tractors. On Ariens zero turn lawn mowers, the frame is a fully welded tubular design and much stronger than the traditional C-channel frames of lawn tractors.
Zero turn lawn mowers have a better cut quality. With options for fully fabricated steel, deep decks, cutting decks are more durable and promote maximum airflow. Fabricated decks on Ariens zero turn models are aerodynamically designed so grass is pulled toward the blades and clippings are discharged evenly. The result is a superior cut quality without stragglers or clumps.
How to drive a zero t​urn lawn mower
No steering wheel? No problem. Driving a zero turn lawn mower is easier than most think and is a lot like driving a shopping cart.
Each control lever operates the wheel on that side of the mower. For example, pushing the steering lever forward on the right side of the unit makes the right wheel move forward. Pushing the steering lever forward on the left side of the unit makes the left wheel move forward. Same rules apply to operating the mower in reverse.
To drive a zero turn in a straight line while mowing, operators simply keep each steering lever aligned with each other while pushed forward. The farther forward the levers, the faster the mower drives. As the steering levers are moved closer to the operator and the "neutral position," the slower the mower drives. When returned to the neutral position, the mower stops moving.
How to turn a zero t​​urn lawn mower
It's important to understand that the left and right drive wheels (controlled by their left and right steering levers) each have an independent motor. So, it's possible to make the left wheel turn in reverse and the right wheel turn forward, or vice versa. Actually, that's how a zero turn mower makes its turn. One wheel moving at a different rate, or in the opposite direction, of the other wheel makes a zero turn lawn mower turn.
Making both gentle and aggressive turns with a zero turn mower is easy. To make a gentle curve, simply push one steering lever slightly farther forward than the other while driving forward. For example, to make a gentle turn to the right, keep the left steering lever farther forward than the right lever. To turn left, keep the right steering lever farther forward than the left lever. The farther apart the steering levers are from each other, the sharper the turn.
To make a 180-degree turn with a zero turn lawn mower, pull one steering lever back while pushing the other steering lever forward. So, to turn on a dime to the left, pull the left steering lever back and push the right steering lever forward. To turn on a dime to the right, pull the right steering lever back and push the left steering lever forward. The greater the distance between the two steering levers, the faster the mower will make that turn.
American made lawn​​ mowers
As zero turn lawn mowers become more popular among North American homeowners, more dealerships and national retail stores are offering a multi-brand lineup of mowers. In today's market, more homeowners value American made lawn mower brands over the other choices, which is why more consumers have put their trust in the Wisconsin-based Ariens brand.
Ariens ZOOM® zero tur​n mower
The Ariens ZOOM has the best-in-class speed among the other zero turn lawn mowers in its category. The ZOOM comes standard with a high-back seat, maintenance-free transmission and a washout port to help clean grass clippings from the underside of the deck. Its lever-adjusted height-of-cut system allows operators to easily change between its 7 cutting height settings. The ZOOM comes available with a 34 or 44-inch cutting width.
​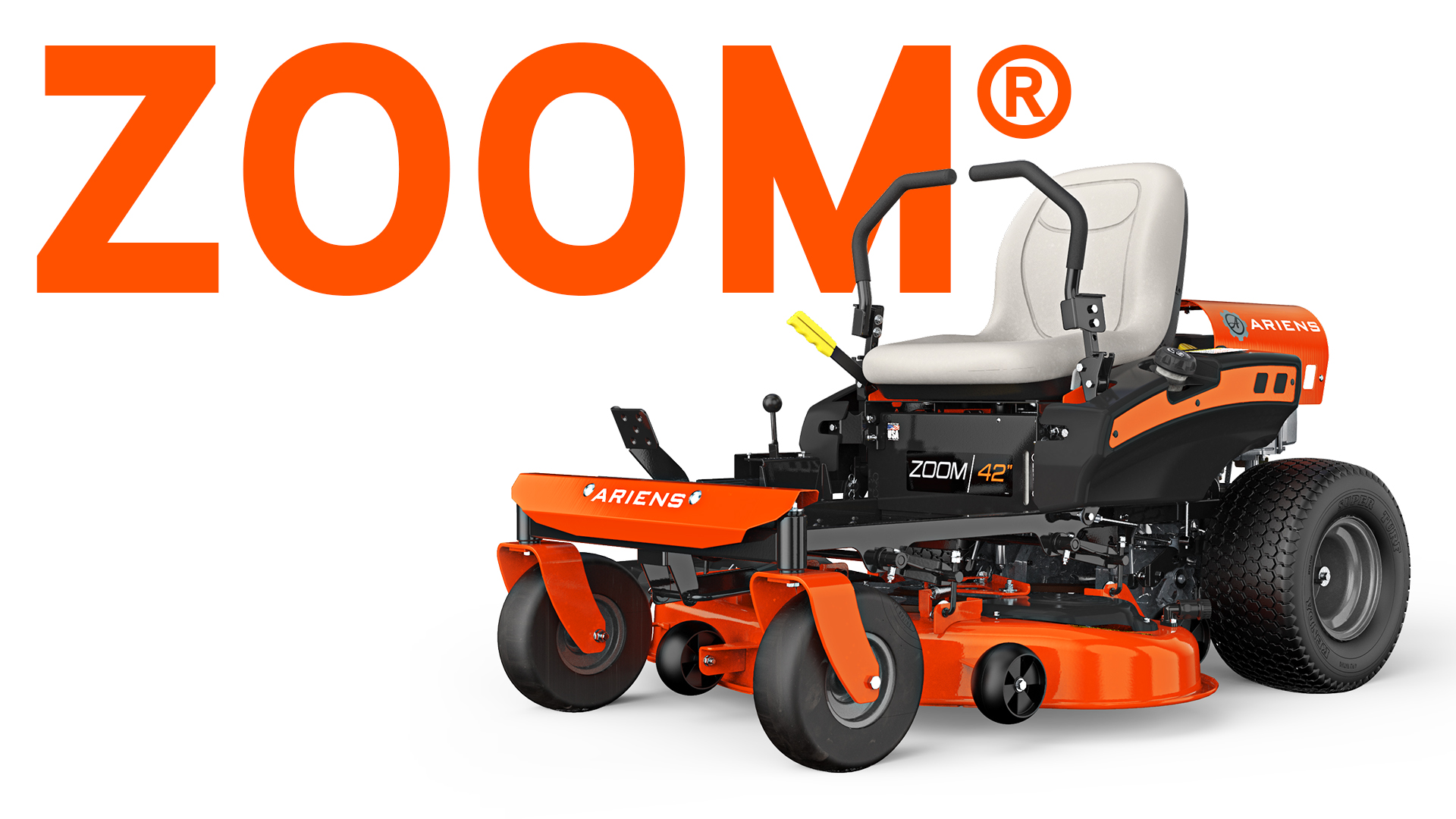 Ariens IKON X zero turn mower
The Ariens IKON X is a relatively new zero turn lawn mower platform, but it gained popularity fast. It's 4.5-inch deep, fully fabricated deck allows for premium airflow, resulting in a high cut quality. Its standard adjustable, plush, high-back seat with armrests allows operators to experience ​all-day comfort, even when mowing lawns up to three acres. The added durability in its fully welded steel tubular frame, its Ariens 3-year limited warranty and 5-year limited warranty on the deck shell and frame is part of why this machine is considered one of the highest values in residential mowing.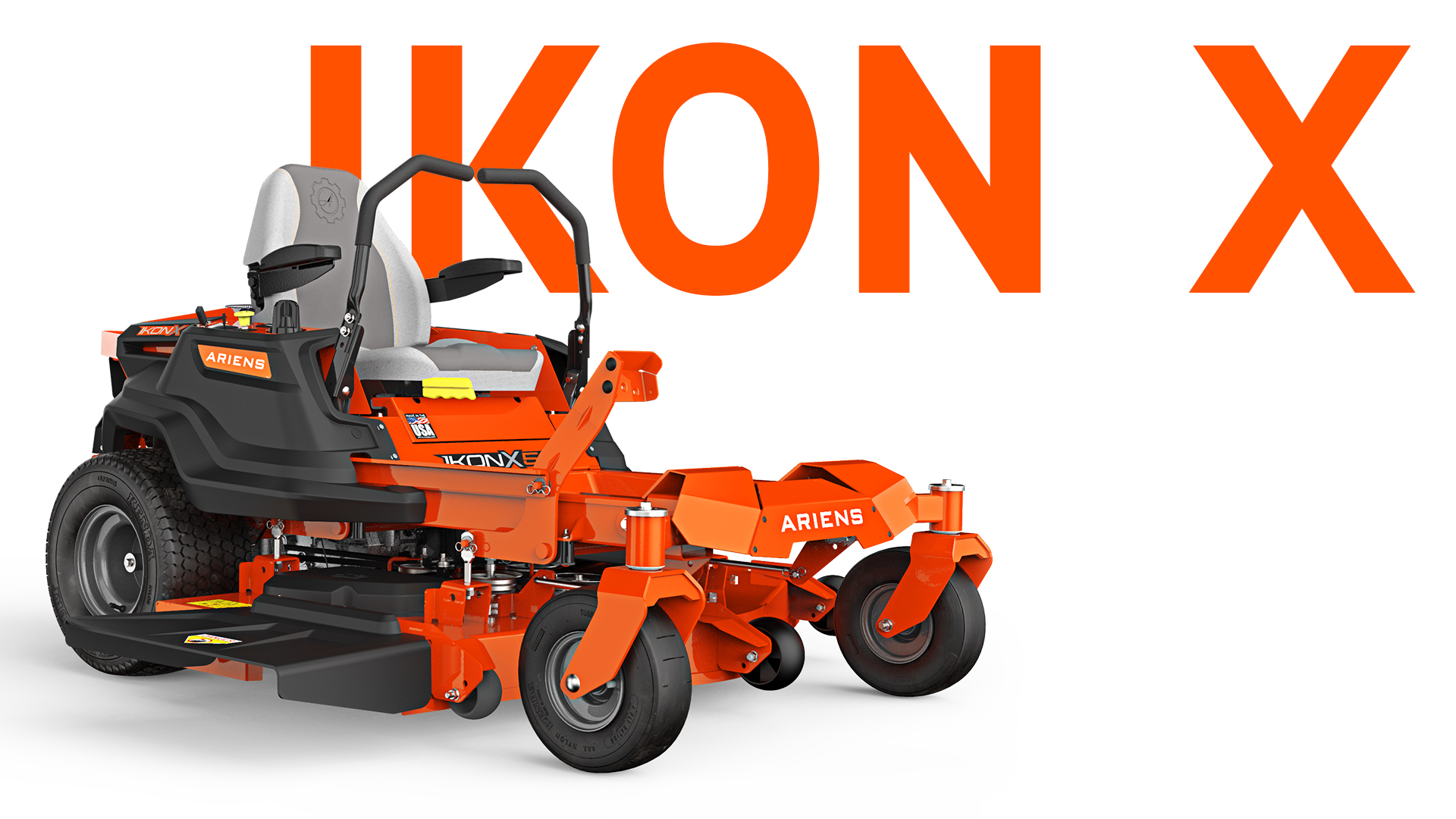 Ariens IKON XL zero turn mower
The IKON X's big brother, the Ariens IKON XL is just as valued, but is a step up for homeowners who want their neighbors to take notice. Available with a cutting deck width up to 60 inches and larger transmissions, the IKON XL quickly trims large acreage down to size. Padded armrests and larger tires contribute to an even more comfortable, smoother ride. And like its little brother, constant tension on the mower belts reduce the belt wear and provides a consistent quality of cut throughout the life of the belt.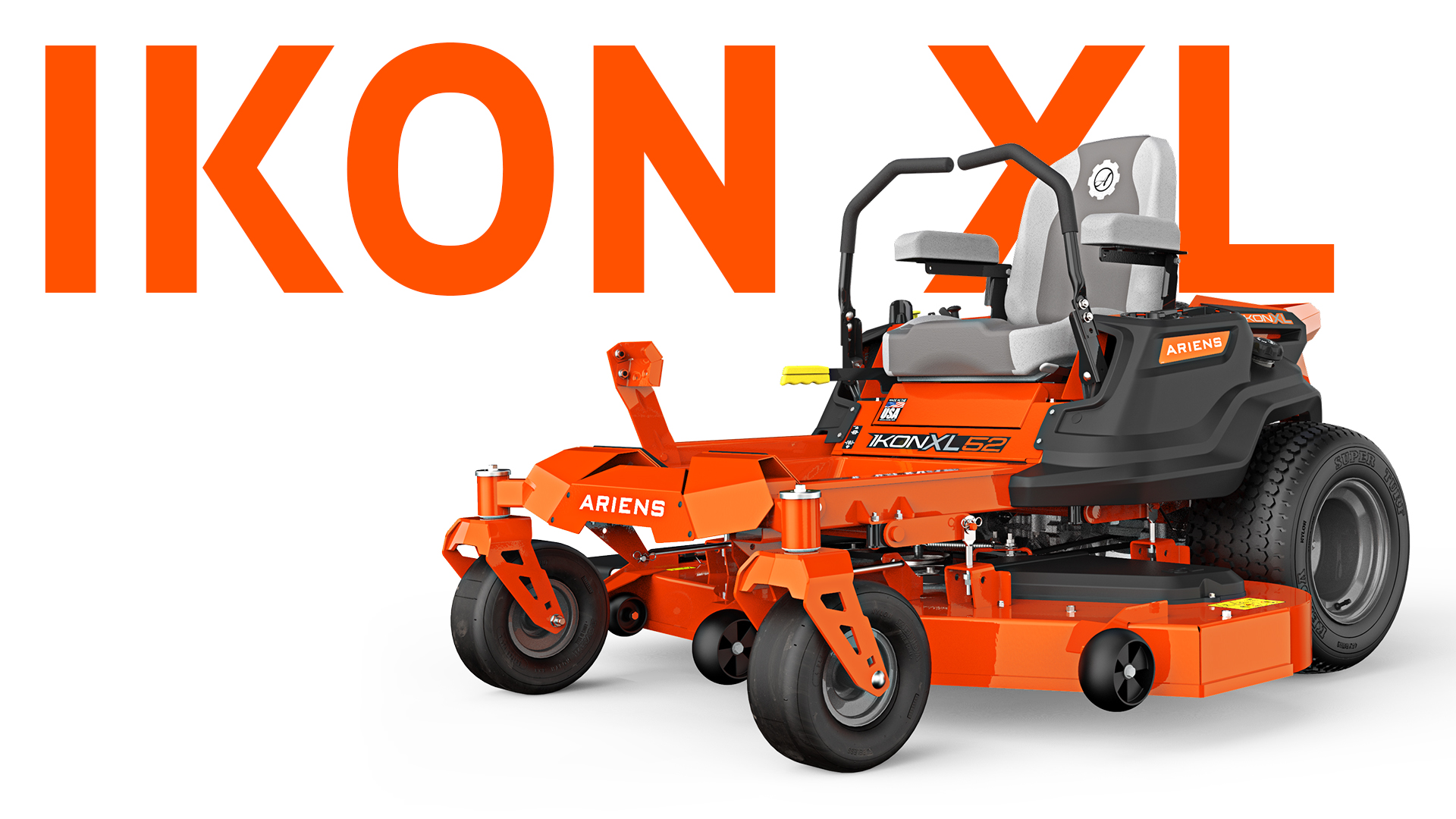 Ariens APEX® zero turn mower
The Ariens APEX is for the most serious homeowners with even the largest acreage. The APEX is so robust that Ariens confidently offers a 1-year limited warranty for commercial use with the unit. Also included in this commercial-capable machine are fully adjustable handlebars and a custom plush seat for superior comfort and better user experience, a 5.5-inch-deep cutting deck for superior airflow and a 5-gallon fuel tank capacity that allows operators to cut longer with less refueling time. And as a bonus, the attractive industrial styling of the APEX appeals to modern homeowners who appreciate how Ariens added a stylish touch to the look of mowing.​
​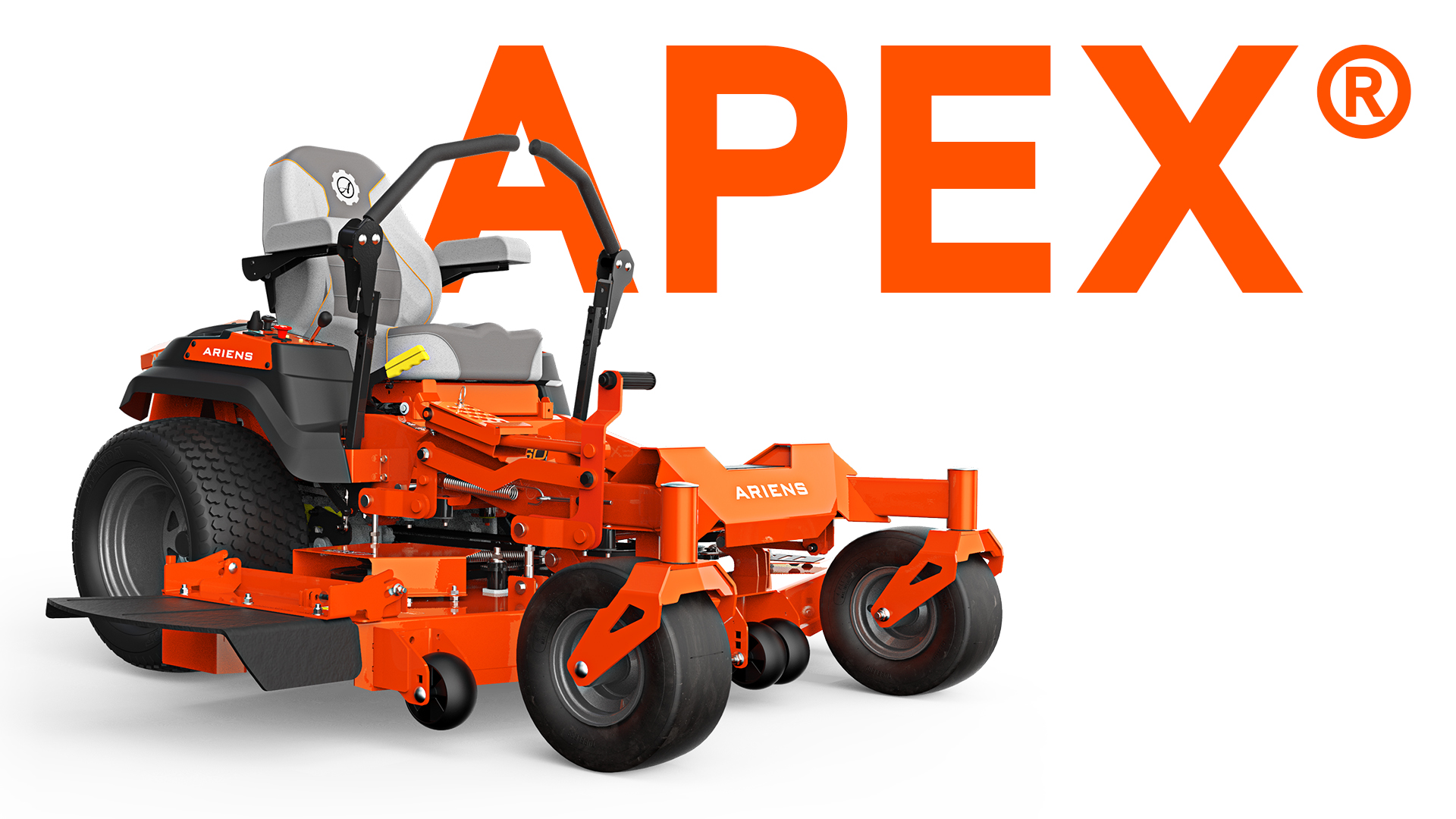 Where to buy a zero turn lawn mower​​​
Find an Ariens dealer near you with our lawn mower dealer locator tool. If you're not sure which zero turn lawn mower is right for you, use the lawn mower selector tool to find which model matches your grass, cutting area, budget and more.