1/10/2020 6:00:00 AM
Snow always looks pretty when it falls from the sky. For some people, snow incites the feelings of peace and calmness. For others, the first thought is how fast can the snow be cleared away? If that snow is heavy, wet and maybe even a bit icy, snow clea​​ring may take longer than anticipated if the chute on your snow blower is getting clogged. That's not ideal for anyone. Luckily, we put together the common causes for snow blower clogging and tips on preventing snow blower cute clogging.
What causes a snow blower​​​​ chute to clog?
Unless you're using your snow blower to remove something other than snow, there are two main reasons your snow blower chute will get clogged – heavy, wet snow and clearing snow too slowly. ​
Heavy snow​​​
Heavy snow with a high moisture content can clump together more easily than light, fluffy snow. The same snow that was perfect for making snow forts and forming snowballs as a kid has now betrayed you. Now that you're responsible for clearing it, the better that snow packs or clumps means the more difficult it is to move through the snow blower auger and the chute. The more difficult snow is to move, the more likely it will get stuck somewhere in your snow blower cute and cause clogging to occur.​
Walking too​ slow
No matter what type of snow you remove, if you have your snow blower in a slow drive setting and are clearing snow too slowly, you increase the odds of the snow clogging. Moving more slowly may make you think your clearing surface will get cleaner, but it's giving the snow more time to bind together and clog. If your snow isn't being processed through your snow blower fast enough, it could clog.​
How can I prevent​ my snow blower chute from clogging?
You have a much greater chance at saving time snow blowing by preparing for potential issues before they happen. Save time clearing snow by following these easy suggestions to keep the auger and chute ready for snow blowing:
1. Use a snow blower non stick spray on your auger and chute
This works like cooking spray does ​on a skillet. The snow-blower non-stick spray protects your machine against dirt, snow and even grass from sticking inside the auger housing, the discharge chute and other components. Most specialized sprays only need occasional application, which is nice when you just need to get the job done.​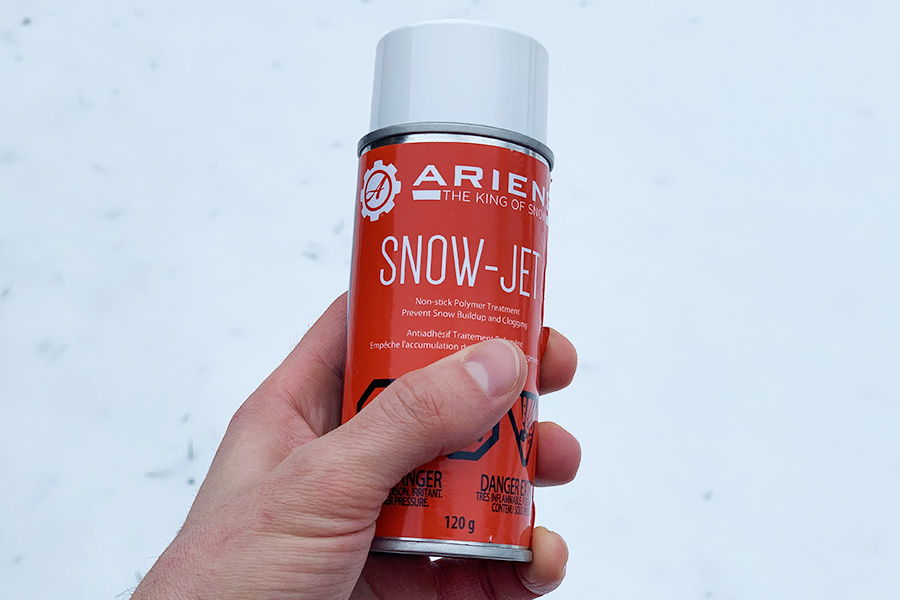 If you don't have snow blower spray available and you need to get the job done today, try using a cooking spray or WD40.
2. Clear snow​ faster
If your snow blower won't drive any faster to help prevent snow clogs inside it, then you might want to explore your options. Consider getting a more powerful snow blower that moves faster and processes snow more quickly if clogging continues to occur, even in the best of snowy conditions.
A super high output snowblower might be an option to consider if you need something that works faster.​
My snow ​​blower is clogged. How do I unclog my snow blower?
The most important thing is to NEVER use your hands, feet or any other body part to clear a clog in your snow blower. Doing so may result in a serious injury. ONLY clear a snow blower clog with the clean-out tool provided with the unit. You can read more about safe snow clearing practices in a snow blower safety blog we published earlier this winter.
If your snow blower is clogged, turn the machine off before doing anything. Too many make the mistake of thinking, "I will be careful" or, "This will just take as second," but not turning the machine off, removing the key and waiting for all moving parts to stop could have tragic results. It's always worth your time to wait for the engine and all moving parts to stop to ensure it's safe to clear the augers, housing and chute from packed snow and clogs.
Use a tool. Most snow-blowers come with a tool to help with unclogging, and often there's even a handy place on the machine where it can be stored. If you don't have a tool that came with your machine or you misplaced it, a broom stick or another similar, adequate tool will do the trick.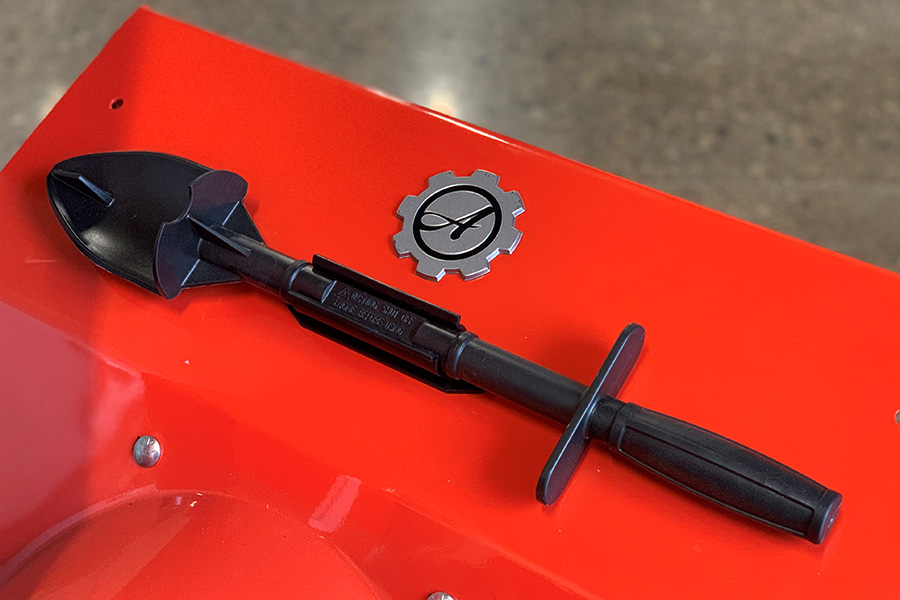 With the tool, loosen the debris, remove the tool and then try to snow blow again. Once you have it clear, use the snow blower non-stick spray to make sure your chute and auger are well lubricated. This can help with reducing the chance for future clogs.​