8/18/2021 1:32:30 PM
Homeowners have a lot to consider when deciding on their next lawn mower purchase. They must consider things like the type of mower, included features, and where to buy it from. In our 2021 lawn mower buying guide, we break down the complexity.​​
Zero turn vs lawn tractor
These lawn mowers have been used by homeowners for years. With increasing new housing starts, there's been a greater demand for residential lawn mowers, but a higher percentage of homeowners are choosing the zero turn mower over the lawn tractor.

The fundamental difference between the two is in the steering. Traditional lawn tractors have a steering wheel that functions the same way as in a vehicle.

Zero turn lawn mowers feature two steering levers that control the wheels. When one lever is pushed forward, the drive wheel on that side moves forward. When the other lever is pushed forward, the drive wheel on the other side moves forward. When both are pushed forward, both wheels drive forward. The same concept applies in reverse. The same movements used to drive a shopping cart can be applied to steering a zero turn lawn mower.
​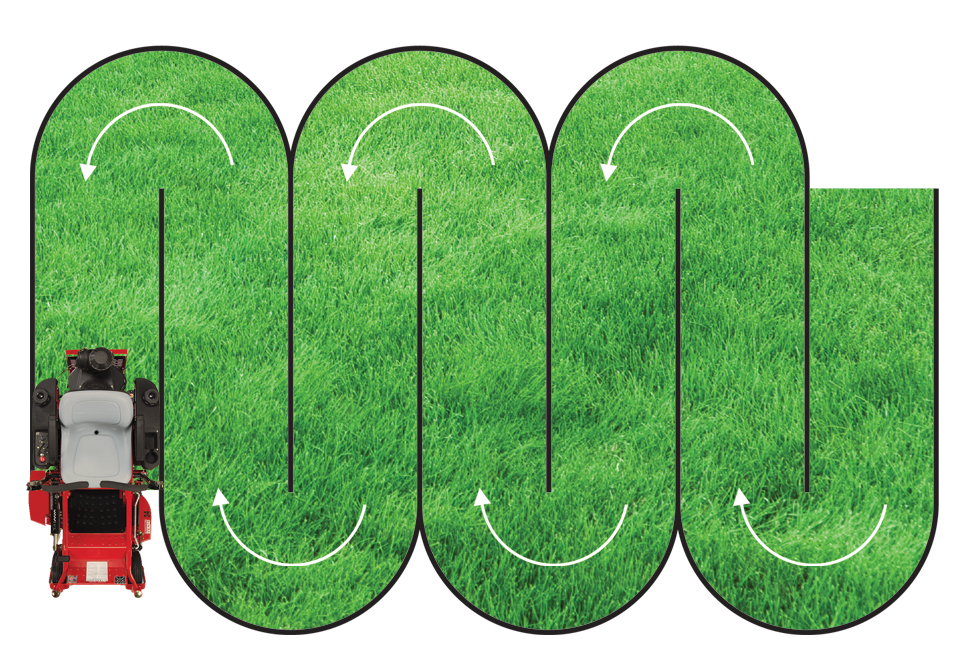 Zero turn mowers are easy to use.

To use a zero turn mower, set the cutting height, start the engine and drive. On the latest designs, set the cutting height by effortlessly pushing forward on a foot-operated deck lift pedal and turn a dial, move a lever or insert a pin. Simply release the deck lift pedal and you're set. You'll likely keep your cutting height at one setting for most of the year, so you won't adjust this until the seasons change and you need to cut at a different grass height. Starting the engine and turning on the blades is the same on a zero turn as most mowers. Sit down in the seat, pull a choke lever (if equipped) and turn the key. Once the engine starts, the blades can be engaged with a switch. Learning how to drive a zero turn mower is easy. Simply push both steering levers forward to drive in a straight line. To turn a zero turn mower to the right, position the right lever slightly behind the left lever. To turn a zero turn mower to the left, pull the left lever slightly behind the right lever. As the distance between the two levers increases, your turn becomes sharper. To increase speed, push both levers as far forward as possible. To slow down, gently pull the levers closer to your body. To stop a zero turn lawn mower, simply pull the levers closer to your body until the wheels stop. If the machine goes into reverse, you went too far. Push the levers slightly forward to find the "neutral position" and stop the wheels.

Zero turn mowers have better maneuverability.

Zero turns have two steering levers because there's an independent motor controlling each wheel. One lever controls the wheel motor on one side and the other controls the wheel motor on the other side. This characteristic allows you to move just one wheel, making such a sharp turn that the mower has a zero-degree turning radius, hence the name "zero turn." With a zero turning radius, a lawn mower can move around yard obstacles without backing up. This includes hugging anything as wide as the perimeter of a decorative berm to a one-year-old tree trunk with detailed precision. Additionally, this eliminates the need for unnecessary and extra maneuvering at the end of each cutting row. Simply cut a row, turn the mower 180 degrees, align the deck edge with uncut grass and keep mowing – all in one fluid, efficient motion.

Zero turn mowers save time.

There are numerous reasons why a zero turn mower cuts grass faster than a lawn tractor. In fact, homeowners who switched from a lawn tractor to a zero turn mower boast they cut their lawns in half the time. That's not just because the motors that power a zero turn's wheels drive faster. A zero turn's maneuverability holds more than one advantage in time savings. Whereas a lawn tractor requires extra turning and backing when mowing new rows or going around obstacles, a zero turn does not. By the end of your cutting, that's massive time savings. Zero turn mowers can cut rows as small as 34 inches in smaller properties with close obstacles to rows as large as 60 inches. With the availability of wider clearing widths, you make fewer passes cutting large yards. Additionally, deep decks on some residential zero turn mowers promote air circulation that helps prevent grass clumping, bogged blades and uncut stragglers – reducing chances you'll need to spend more time double-cutting.

Zero turn mowers are comfortable.

Comfortable lawn mowers are more than just a plush seat. By integrating ergonomics into a lawn mower's design, the operator is placed in the most comfortable spot with easy access to the controls. For as important as ergonomic positioning is, one of the more important comfort features of a new zero turn mower is its seat. Depending on yard size, operators can spend several hours per week on their mower, so it's paramount that mowers are equipped with plush seats that have optimal airflow and plush armrests.

Zero turn mowers are stronger.

Not all manufacturers build their equipment the same, but zero turns can be made from thicker steel and go through rigorous testing to prove they'll continue working for years to come. One-piece welded frames are stronger than those made up of multiple pieces and bolted together, allowing them to last longer. Some, and in fact most in the Ariens lineup also feature commercial-style fabricated decks. That's the same type used by professionals. The thicker steel and reinforced edges help prevent damage in case the deck hits an obstacle like a rock or yard ornament. Lawn tractors are built cheaper and cheaper and have become a commodity product. Maximize your dollar by researching the construction quality of your next mower so your investment lasts season after season.

Accessories for zero turn lawn mowers.

Zero turn mowers do much more than mow. Zero turns are available with just as many, if not more accessories and attachments than lawn tractors and have greater capabilities. Zero turn hitch kits allow users to pull trailers and haul as more than 100 pounds of debris and landscaping materials. Zero turns can also be equipped with bagger kits to collect grass clippings or leaves, mulch kits to mince grass clippings into lawn feed, headlights to maximize a full day when the sun sets early and much more.
The Best Ariens Lawn Mowers of 2021
The 2021 Ariens zero turn lawn mower lineup changes the look of mowing. With new lawn mowers and upgrades to existing models, the Ariens family of zero turns offers power, strength, comfort and time savings. All of which help Ariens customers craft beautiful entertainment spaces out of their yards while adding more time to their day to spend with your family. The advantages and benefits of an Ariens zero turn mower will make mowing your new favorite chore.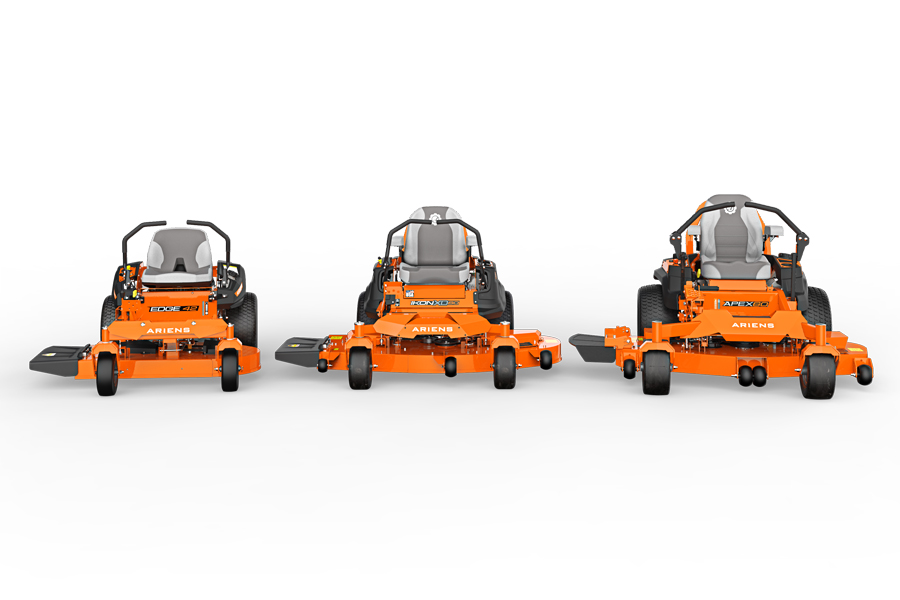 This brand new zero turn lawn mower is one of the best values in zero turn lawn mowers. It's build quality, like any Ariens, is designed to last for generations. Built on a welded steel frame, this strong and durable mower comes with commercial-style cutting deck options and is the best looking, most stylish mower in its class. For comfort, it's outfitted with a plush seat that features breathable back to help prevent sweating and moisture from pooling on the seat. Available with 34, 42 and 52-inch deck sizes, the EDGE fits in any yard.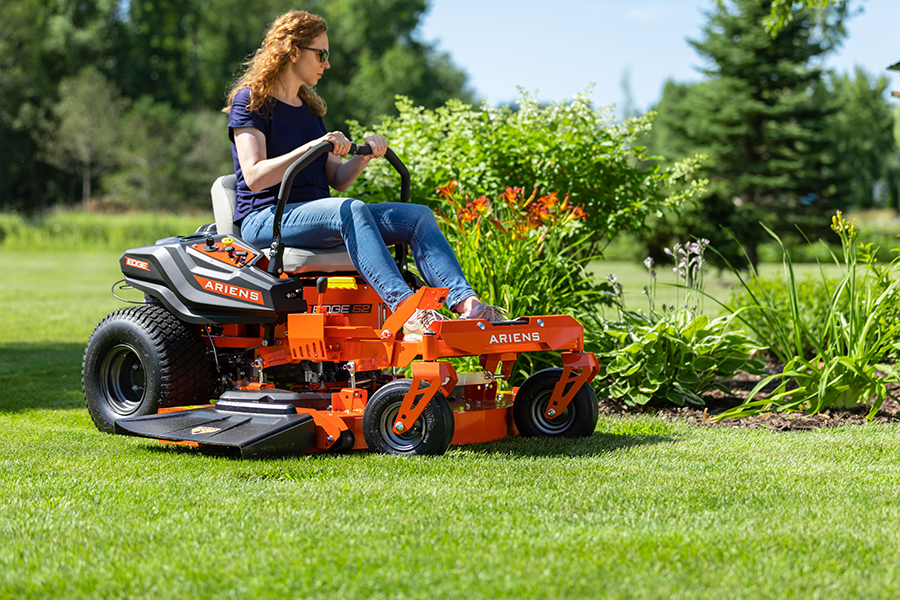 Even with numerous features, EDGE is an entry-level riding mower, meaning it's sold in the lowest price point category of zero turn mowers – giving every family access to the time-saving advantages and the prestige that comes with Ariens ownership.
This powerful zero turn lawn mower is built for most yards. With a plush, high-back seat with padded armrests, it's one of the most comfortable mowers for homeowners. Forward and back seat adjustments place operators of all statures in positions comfortable to their size. Additionally, the steering levers are adjustable. No matter how tall or short the operator, the controls are always at accessible positions.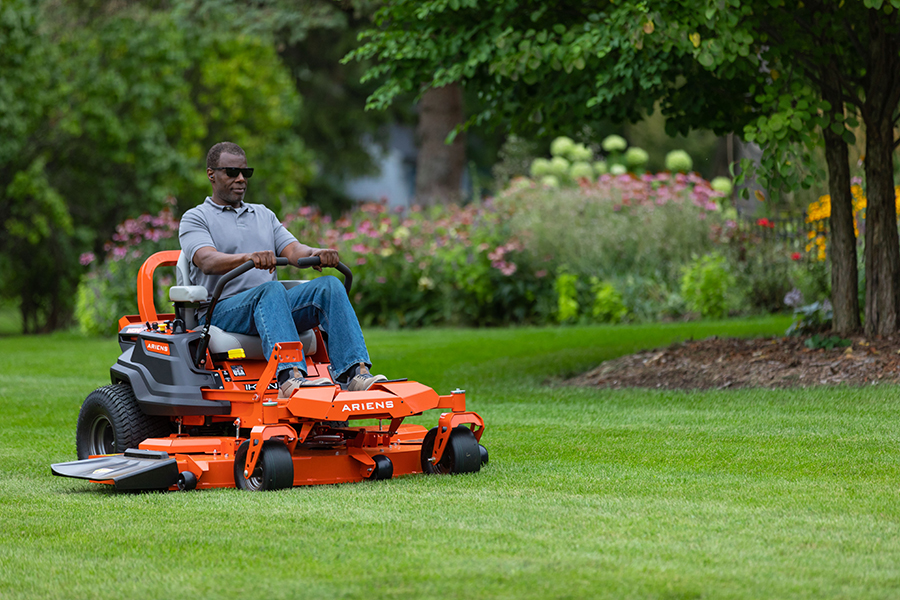 The IKON XD also saves homeowners time with its maintenance-free Hydro-Gear EZT transaxles. The only things owners need to give their attention to are occasional tire pressure adjustments and engine oil changes. With a belt tension technology, the self-adjusting belt automatically adjusts for belt wear, meaning you won't need to touch it until it goes through its lifespan.
The Ariens APEX is just one step away from being a commercial lawn mower. Equipped with power for big yards, APEX also features comfort and ease of use. Adjustable seat and steering levers, an easy-to-use deck adjustment system and an extra-high, plush seat with padded armrests help keep operator fatigue to a minimum to mow the largest yards in comfort.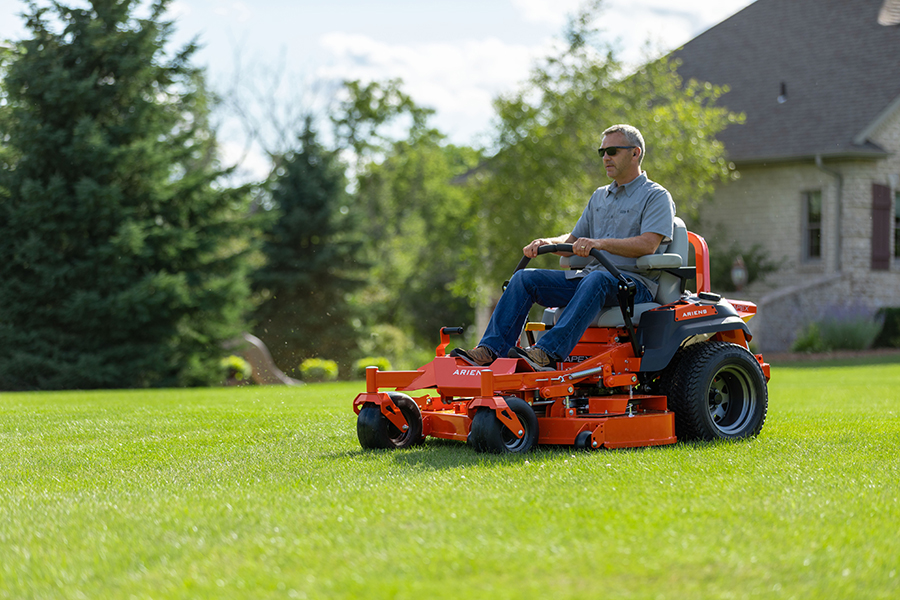 A commercial-style deck with thicker steel and a leading-edge around the deck front and trim sides, plus a professionally proven one-piece frame design make APEX a tough lawn mower for homeowners. Power supplied by Kohler and Kawasaki make cutting the most challenging grasses a time-saving breeze.
You can buy a zero turn mower at national retail and home improvement stores like Lowe's or a local outdoor power equipment dealer. Though there are no differences among the models sold in either store, each has unique advantages.
Buying a lawn mower at Lowes
The argument can be made that lawn mowers at chain stores are less expensive, and while that's true in some cases, it's not a guarantee. If your budget is the deciding factor between purchasing from a home improvement store and a dealer, take the time to compare prices. One option these stores offer is that they sell zero turn lawn mowers online. Like any other online purchase, add the item to your cart, checkout and a truck delivers it to your driveway a few days later. An advantage to some, but remember that lawn mowers may require additional setup if they're still in the box when delivered.
Buying a lawn mower from a dealer
There are also advantages to buying from a lawn mower dealer. Dealerships are stocked with products, the equipment experts who sell them and the trained lawn mower mechanics who fix them. Dealers can help guide you to a choice based on your needs, provide financing for a new purchase and maintain your equipment.
Some national retail chain stores offer service and repair through a third party, but dealers are a one-stop-shop for genuine OEM parts and quality service. Additionally, they can administer lawn mower warranty claims. To some, the personal relationship with a dealer alone outweighs every other buying factor.