Front 3/4
Profile
Rear 3/4
Rear
Front
Top
CLASSIC 24
A NO-NONSENSE WORKHORSE BUILT TO TAKE ON WINTER'S WORST
The Classic's endless appetite for snow starts with its all-steel construction, including a large 11" steel serrated auger. It may be lightweight and easy to control, but this machine was made to handle serious snow removal, throwing up to 59 tons per hour. Interlocking levers let you operate one-handed when throwing snow and driving. This no-nonsense machine lives up to, and beyond, its name.
Find Your local dealer
Classic Series Models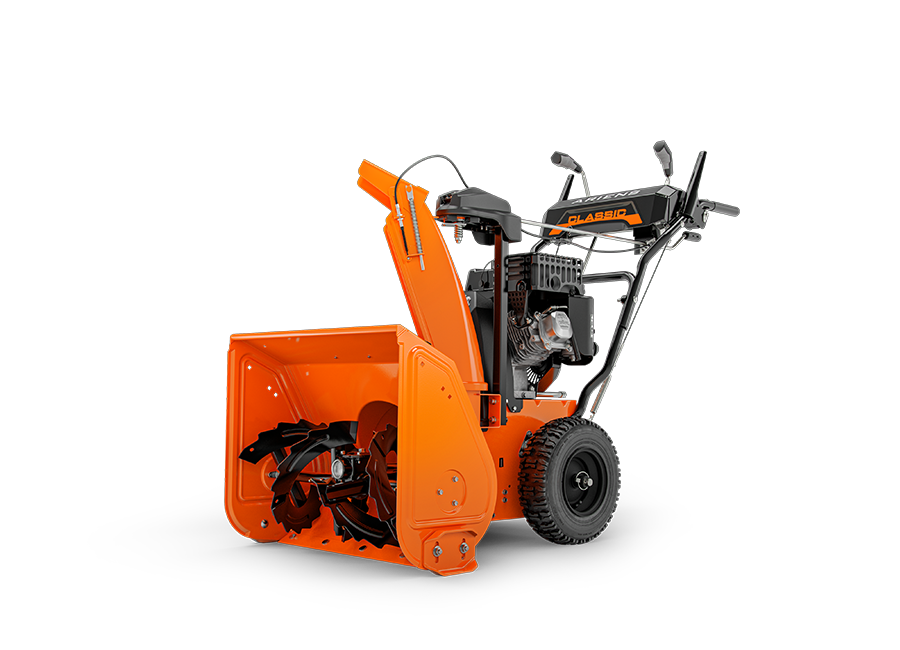 24" (61cm) Clearing Width
58 tons/hour
Ariens AX®
$1,149
24" (61cm) Clearing Width
59 tons/hour
Ariens AX®
$1,249
ALL-STEEL CONSTRUCTION
This machine is built Ariens® tough. Prepare to hand it down a generation or two.
ELECTRIC START
Starts with the push of a button, even in harsh weather conditions.
ALUMINUM GEAR CASE
An industry leader that produces an unmatched auger ration to clear more snow. Equally impressive is its industry-leading 5-year warranty.
2.5X QUICK-TURN CHUTE
You'll have the powder in its place in no time thanks to a 2.5X Quick-Turn Chute with 205-degree rotation.
PRODUCT WARRANTY
With a three-year residential, 90-day commercial warranty, enjoy peace of mind knowing that Ariens® has you covered.
ARIENS® AX 208CC ENGINE
Strong and efficient, its engine's 9.5 pounds of torque easily throws snow up to 40 feet.