8/17/2022 9:27:39 AM
The dog days of summer are upon us and it's very important to stay hydrated, especially when you're cutting the lawn. Most of our
zero-turn mowers
feature a built-in, molded cup holder to house your favorite refreshment while cutting grass. We've done some preliminary surveying to determine what are the top (and most thirst-quenching) go-to bevvies to tag along with you on our zero-turns:
1. Bottled Water
We recommend a coozie or
stainless steel bottle
to keep it cold, but water, by far, is the healthiest and purest form of refreshment on these hot and humid days. Add a lemon for some additional flavor or go full version with the one below.
2. Lemonade
National Lemonade Day was August 20, and we recently announced a collaboration with fellow Wisconsin-based company, Sprecher Brewing Co. as they just released a line of craft lemonade. You can enjoy original, strawberry, blueberry, or raspberry flavors. Take it from us, these bottles pack a refreshing burst of flavor on a hot day! PRO-TIP: For a limited time, you'll
save 15% on online orders
using the code "Ariens." You're welcome.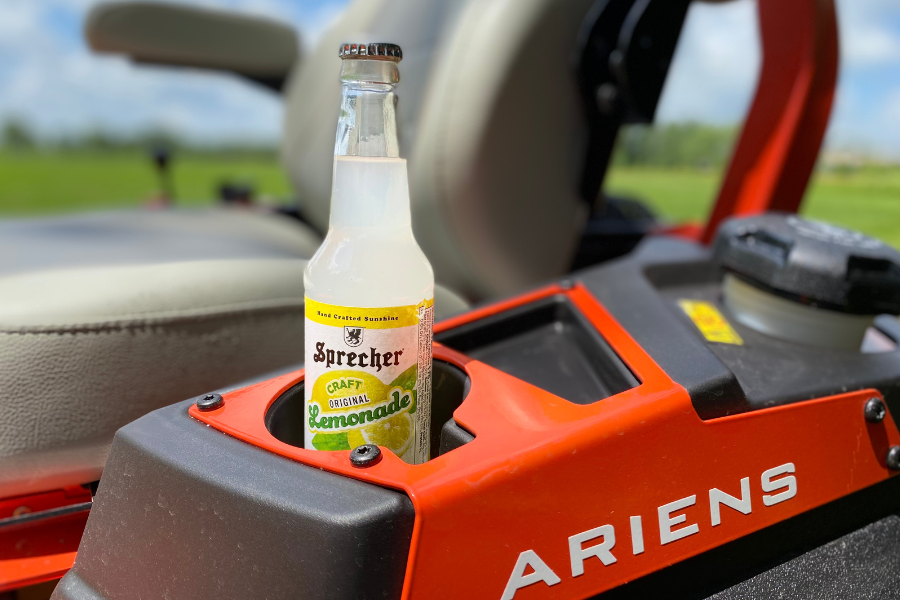 3. Iced Tea
A classic form of refreshment whether you go with sweetened or unsweetened, it quenches thirst with the best of them. Of course, there's tons of different flavors now as well as doing a little mixing and matching with other beverages like the one above and you've got yourself an Arnold Palmer.
4. Sports Drink
There are some great brands and flavors out there, but from a usefulness standpoint, these drinks can also be very helpful in replacing electrolytes on hot and humid days. Aside from staying hydrated, make sure to wear a
hat
, sunglasses, and sunscreen. Now go and mow!