4/26/2016 5:00:00 AM
​​​At Ariens, we like to consider ourselves experts in manufacturing zero-turn lawn mowers. In fact, we were one of the first in the industry to embrace zero-turn technology. And even though we've been living and breathing zero-turns for the past few decades, we know that some of our consumers are still unsure about making the switch from their current lawn tractor to a new zero turn.
​Are you wondering if you should make a change? Keep reading.
Save time.
​Cut your mowing time in half with the infinite maneuverability of a zero-turn mower.
​The maneuverability of zero turn mowers allows you to easily mow around trees, flower beds and other obstacles in your yard more easily than with a steering wheel vehicle such as a riding lawn tractor.​
Zero turn mowers are designed to cut grass nearly twice as fast as traditional lawn tractors so your straight line mowing speed is improved. A typical lawn tractor cuts at a speed of 3-4 mph while a typical zero turn mower cuts at a speed of 5-8 mph.​
​​When you get to the end of your yard and have to turn around and come back, you literally can spin 180 degrees and come straight back without having to back up and cut the strips of grass you would miss when making the turn with a lawn tractor.​
With an unobstructed view of the cutting deck, zero turn mowers make it easy to cut very close to your trim edges – you can nearly eliminate the need to trim hard-to-reach areas with a push mower or a string trimmer after you've finished mowing.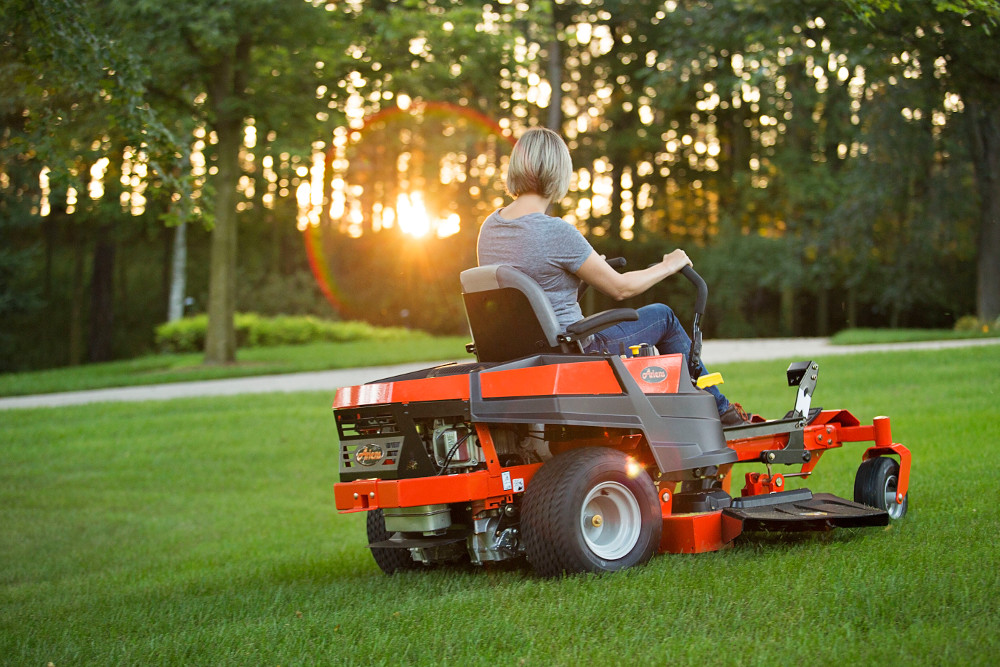 Easy to drive.
No steering wheel? No problem. If you can drive a shopping cart, you can drive a zero-turn. Here's how:
Forward: Push the handles forward.
Reverse: Pull the handles back.
Right Turn: Push the left handle forward.
Left Turn: Push the right handle forward.
Stop: Bring the handles back to neutral.
The key to driving in a straight line is to assure that the same amount of pressure is applied to each lever.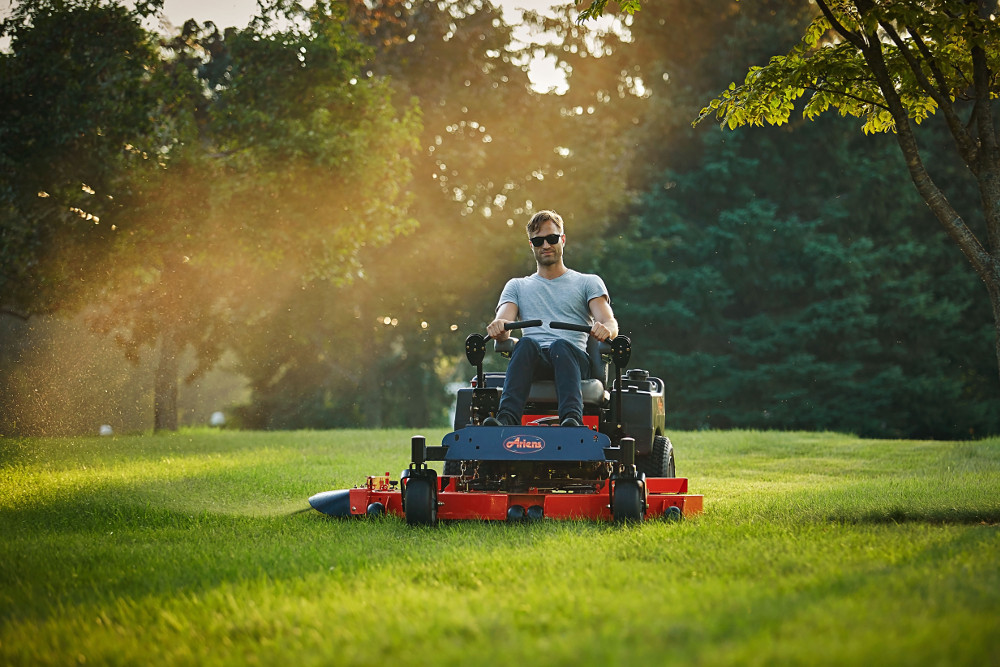 Add attachments.
Need a mower that can do more than just cut grass? There are a number of different attachments that add to the versatility of zero turn mowers.
Bag or mulch clippings.
The most popular attachment is a bagging system that allows you to collect grass clippings. There are many bagger options available for zero turn mowers including two- and three-bucket designs. Ariens and Gravely offer powered and non-powered baggers. Powered baggers have a belt-driven powered blower that forces grass into the bags. Commercial-quality baggers dump from seat using a lever to tilt the collector so you don't have to get off machine to dump clippings.
Rear attachments
Zero turn mowers can accommodate a variety of rear attachments, including a dump cart, spreader, plug aerator, lawn dethatcher, roller or sprayer.
Front attachments
Some zero turn mowers can accommodate a front-mounted blade or even a snow blower or brush for clearing snow or debris.
​
Most attachments can be installed with the accompanying instructions, but it is generally recommended to have them installed by a professional power equipment dealer. Some zero turn mowers may require you to add a hitch for rear attachments while others may come standard with a hitch. In some cases, front attachments may require an adapter kit or weight kit. "Quick hitch" mechanisms may also be available for fast and easy changeover.
Want to know more? Visit www.whyzeroturn.com or visit your local authrorized Ariens dealer to test drive a zero-turn today!