4/25/2019 5:00:00 AM
By: Helen Dearing, Content & Digital Marketing Manager,
Undecided between a zero-turn or garden tractor? In the latest Ariens blog we compare the two.
Ride-on lawn mowers also called garden tractors have traditionally been the most popular lawn care products for homeowners because of strong brand name appeal and familiarity. With thinner steel, thin stamped decks and little to no comfort as well as efficiencies in grass cutting, homeowners are switching over to a new kind of ride-on lawn mower.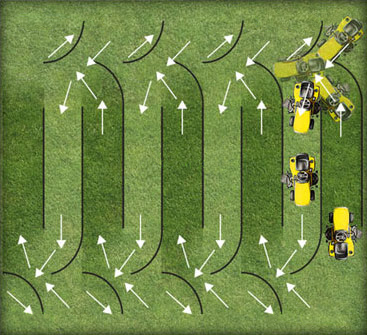 Unlike garden tractors, zero-turn mowers can be built with thick, more durable steel frames, stronger decks that result in a better cut quality and substantially reduced cutting times. As peoples' lives get busier, time saving is more and more critical. The zero-turn lawn design offers greater cutting efficiencies, reducing cutting time by 50% over mowing with a lawn tractor.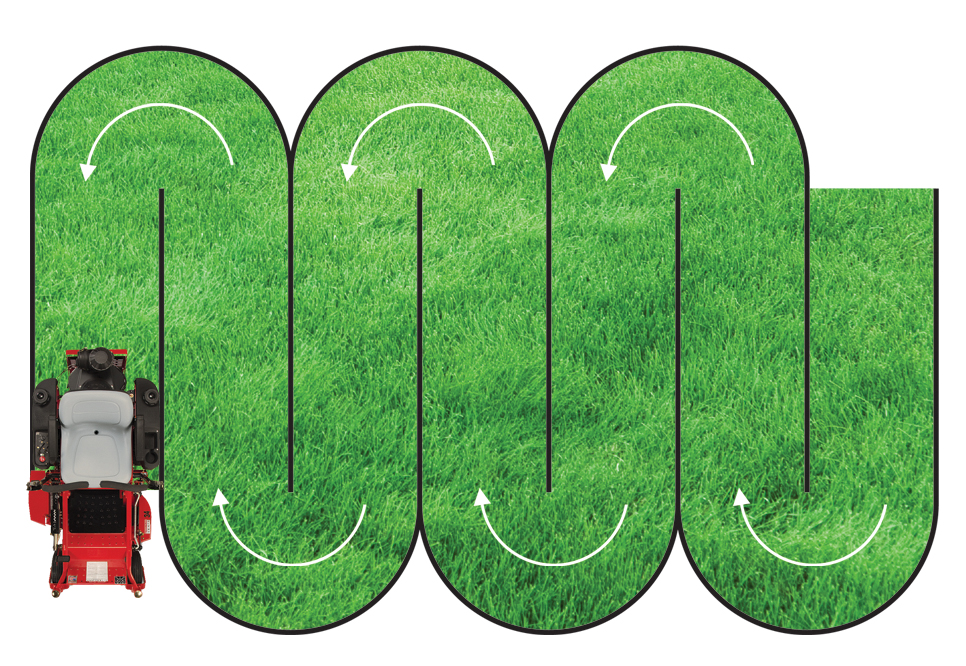 How you ask?
Zero turn lawn mowers do exactly what they sound like they can do. It's a lawn mower that has a zero-degree turning radius, meaning it can turn on a six-pence. These mowers can literally spin 360 degrees in one spot because of their superior technology. Rather than the conventional steering system found on a lawn tractor or out-front mower, these zero-turns are driven and steered by the rear wheels via an independent transmission. Two levers are all you need to drive, brake and steer. Spinning on the spot is achieved by either pushing the left hand or right hand forward eliminating the need for three point-turns at the end of the cutting pass.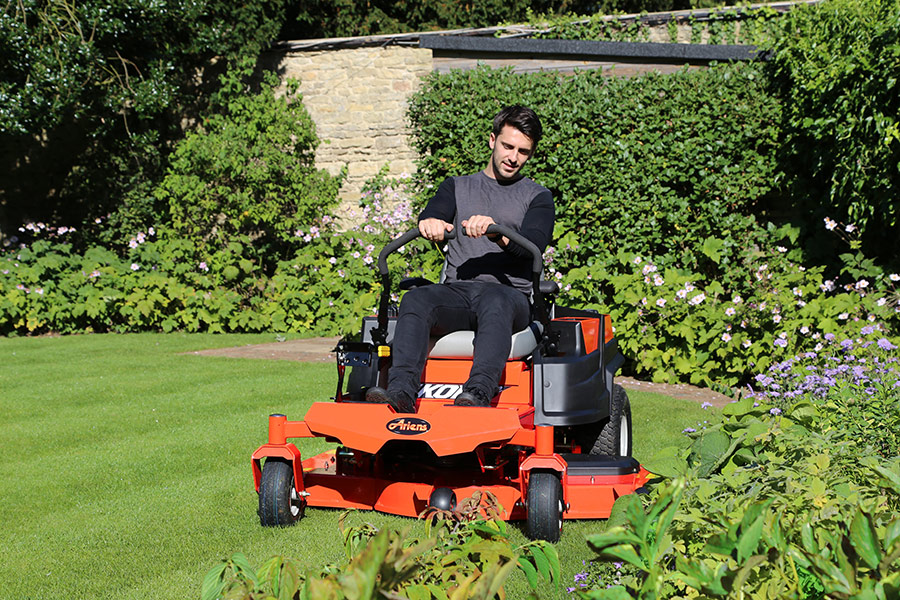 Zero-turns are also faster! Typical speeds of garden tractors are 3-4mph, whilst zero-turns achieve 5-8mph. Faster speed coupled with no 3-point turns and going over already cut grass demonstrates how efficient this mower is. Cutting time is reduced, less trips are needed to remove and dispose of cut grass and less fuel is used.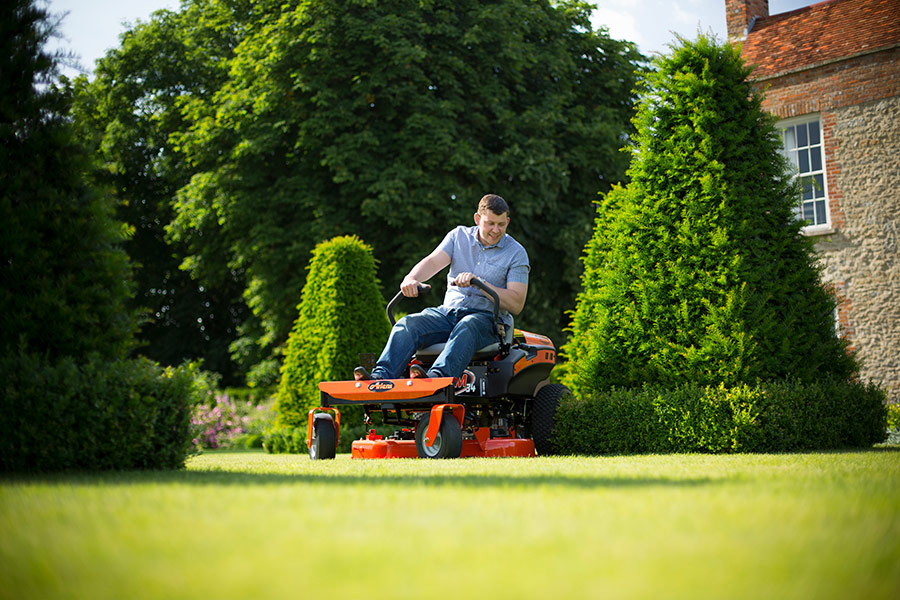 The advantages of zero turn lawn mowers
Zero turn lawn mowers are built to be comfortable. For example, most Ariens zero turn lawn mowers come with a high-back, plush and adjustable seats. Some mowers in their lineup even include plush armrests. Additionally, the controls are all positioned in ergonomic and easily accessible locations so the operator can simply enjoy the ride.
Zero turn lawn mowers save time. The wide range of deck size options in a zero-turn lawn mower allow homeowners with both small and multi-acre gardens to cut their lawns much faster than they could with a lawn tractor. In the Ariens portfolio, homeowners can choose a deck as small as 34 inches or as large as 60 inches across.
The ability for a zero-turn lawn mower to turn on itself reduces the need for the extra manoeuvering. Get to the end of your cutting row, make a quick 180-degree turn, align the deck edge with the row just cut and keep going. With a lawn tractor, that requires a turn, backing and another turn. This is time lost, and that time adds up fast for each row of grass that needs to be cut.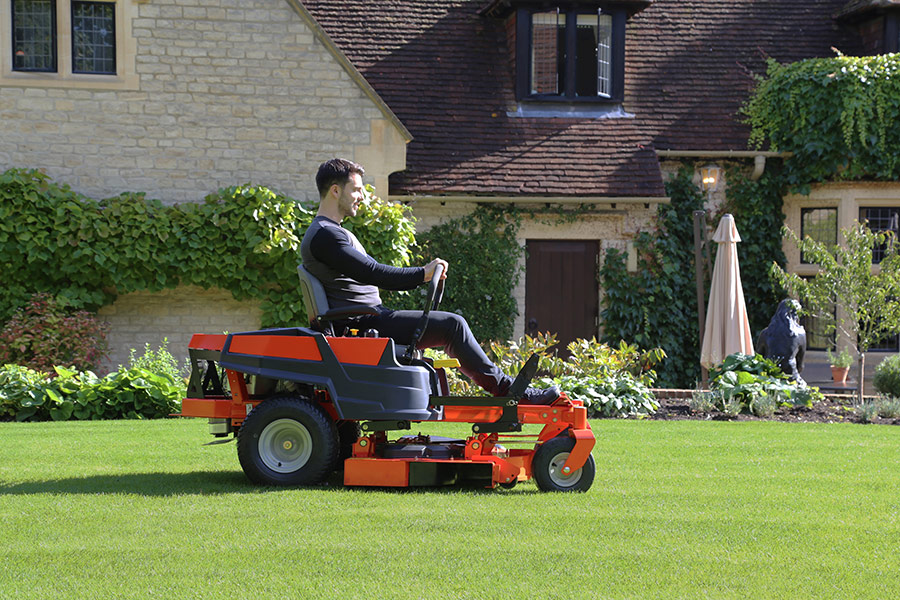 Zero turn lawn mowers are more durable. This depends on the brand, but zero turn mowers are generally built with thicker steel than lawn tractors. On an Ariens zero-turn lawn mower, the frame is a fully welded tubular design and much stronger than the traditional C-channel frames of lawn tractors.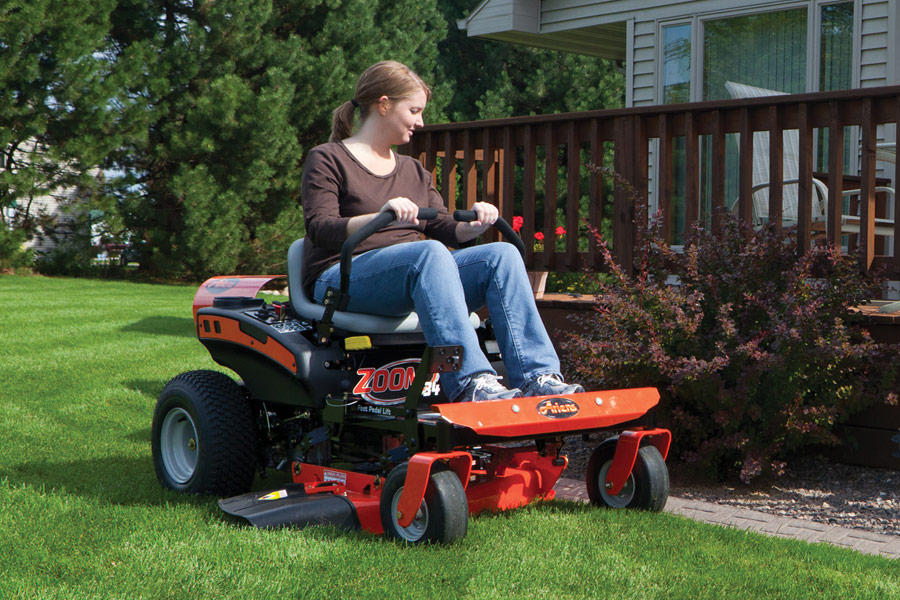 Zero turn lawn mowers have a better cut quality. With options for fully fabricated steel, deep decks, cutting decks are more durable and promote maximum airflow. Fabricated decks on Ariens zero turn models are aerodynamically designed so grass is pulled toward the blades and clippings are discharged evenly. The result is a superior cut quality without stragglers or clumps.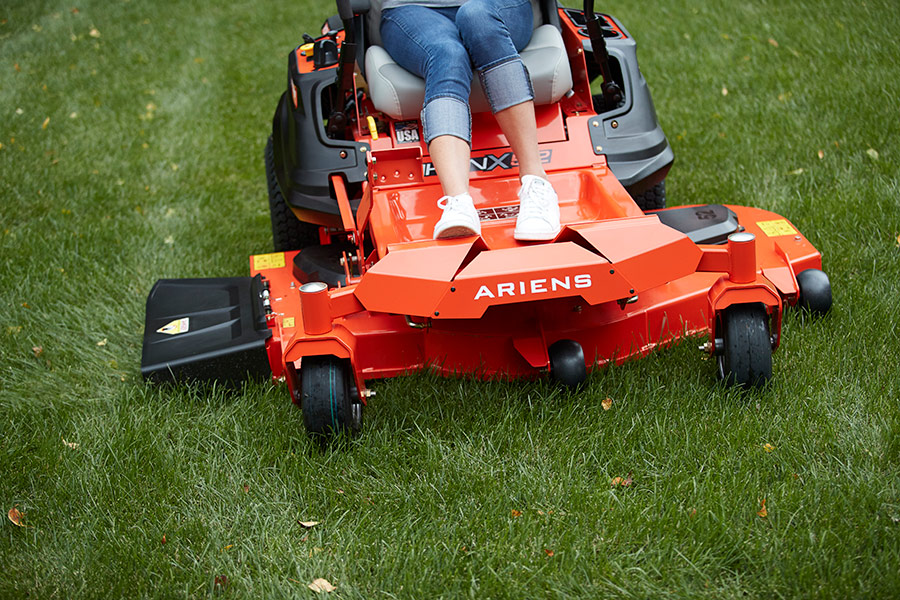 Take back your weekends with an Ariens zero-turn. Find an Ariens dealer near you with our Ariens dealer locator. If you're not sure which zero turn lawn mower is right for you, visit our zero-turn product page to find which mode​l matches your grass, cutting area, budget and more.