6/21/2019 5:00:00 AM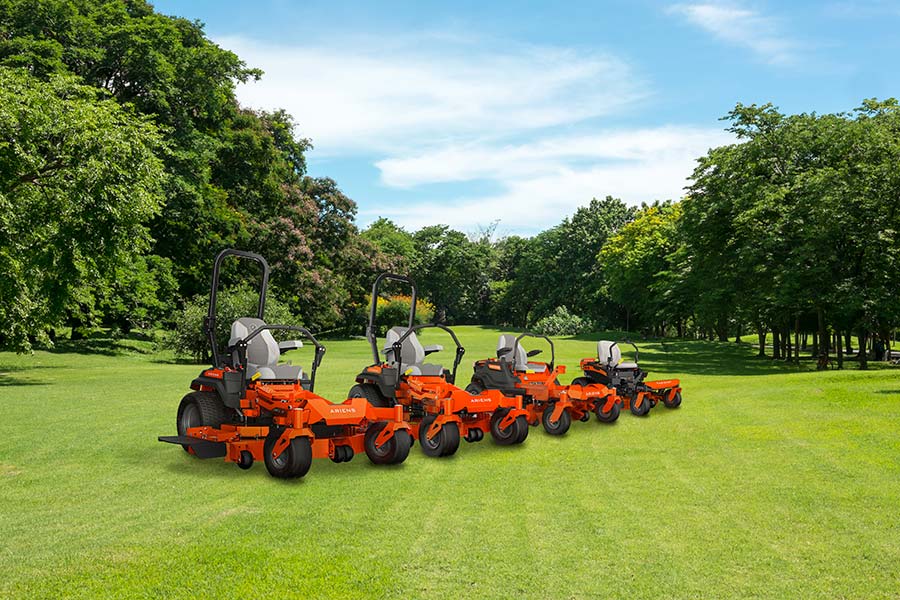 ​
Looking to purchase an Ariens zero-turn but not sure what models Ariens offer? In the latest issue of the Ariens blog we showcase the Ariens range incorporating the ZOOM®, IKON X, APEX and ZENITH to help you understand what features and benefits each model possesses to help you make an informed decision when it comes to specifying.
All Ariens zero-turn mowers are designed, tested and built to provide the toughest, most comfortable ride with the highest quality cut possible. With faster speeds and superior manoeuvrability compared to lawn tractors, zero-turns cut your mowing time in half with no loss of performance. At the end of each pass, it can turn 180° in its own footprint. Eliminating the need for multiple turns or going over cut grass. Find the right zero-turn for you:
Ariens ZOOM®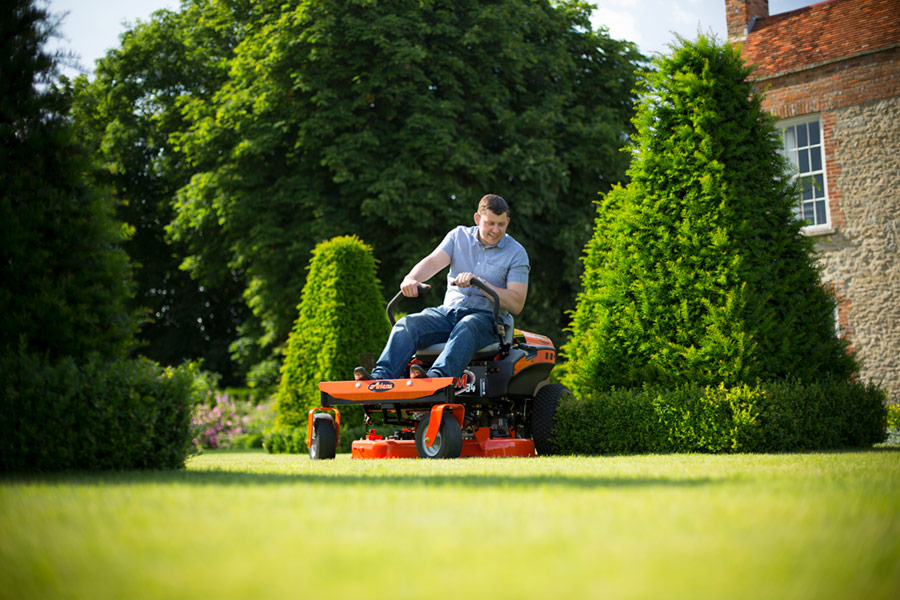 The Ariens ZOOM® has best-in-class speed among other zero turn lawn mowers in its category. Available in two sizes, the Compact ZOOM® has a cutting width of 34" (86cm) making it ideal for smaller gardens or where there are access limitations. The larger ZOOM® 42 has a cutting width of 42" (107cm) with additional power and refinement making this a good choice for a slightly larger garden.
The ZOOM® is fitted with a high-back seat, maintenance-free transmission and a washout port to help clean grass clippings from the underside of the deck. Its lever-adjusted height-of-cut system allows operators to easily change between its 8 cutting height settings. Fitted with a Briggs and Stratton® Twin 656cc engine, the ZOOM achieve speeds of 4.7mph (2.5mph in reverse), ideal for "zooming" around the garden.
Both models come configured to side-discharge, throwing clippings out of the right-side of the deck. An optional conversion kit is available to transform the Zoom® into a high-performance mulcher. The ZOOM® series comes with a 3-year domestic warranty.
Ariens IKON X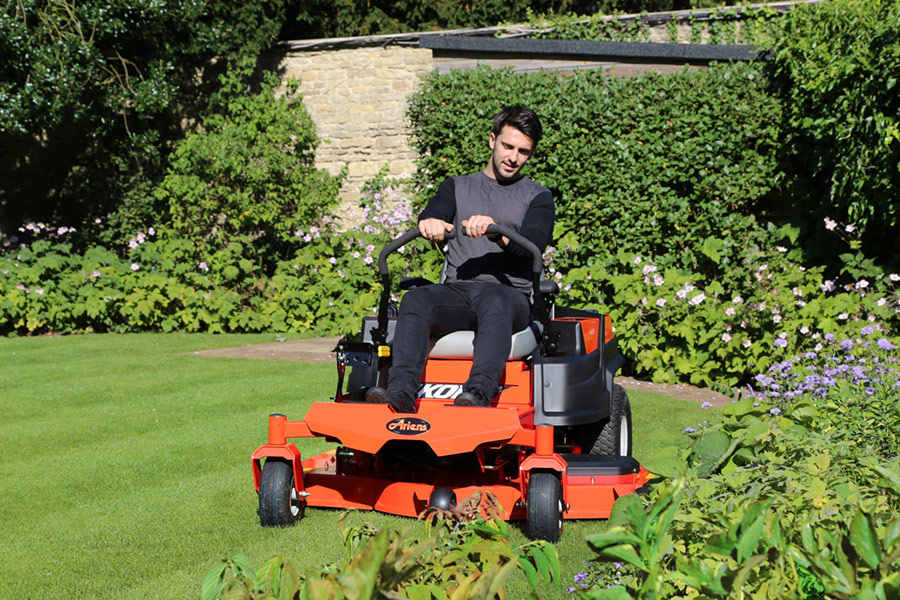 The Ariens IKON X series is packed with commercial quality features and has gained in popularity since its inception. Available in two cutting width sizes, the 42" (107cm) and a larger 52" (132cm) make this mower ideal for medium-sized gardens. The IKON X series has a 4.5-inch deep, fully fabricated deck allows for premium airflow, resulting in a high cut quality.
Users experience all-day comfort, even when mowing lawns of up to three acres, due to the professional-style plush high back seat and arm rests. Fitted with a reputable Kawasaki® 726cc engine, the IKON X can achieve speeds of 7mph (3mph in reverse), ideal for cutting grass efficiently.
Changing cutting heights between one of 13 cutting positions is done quickly with the turn of a dial. The added durability in its fully welded steel tubular frame is part of why this machine is considered one of the best lawn mowing solutions for domestic gardens. Both models come fitted with side-discharge decks, an optional conversion kit transforms the IKON X into a high-performance mulcher. The IKON X series comes with a 3-year domestic warranty.
Ariens APEX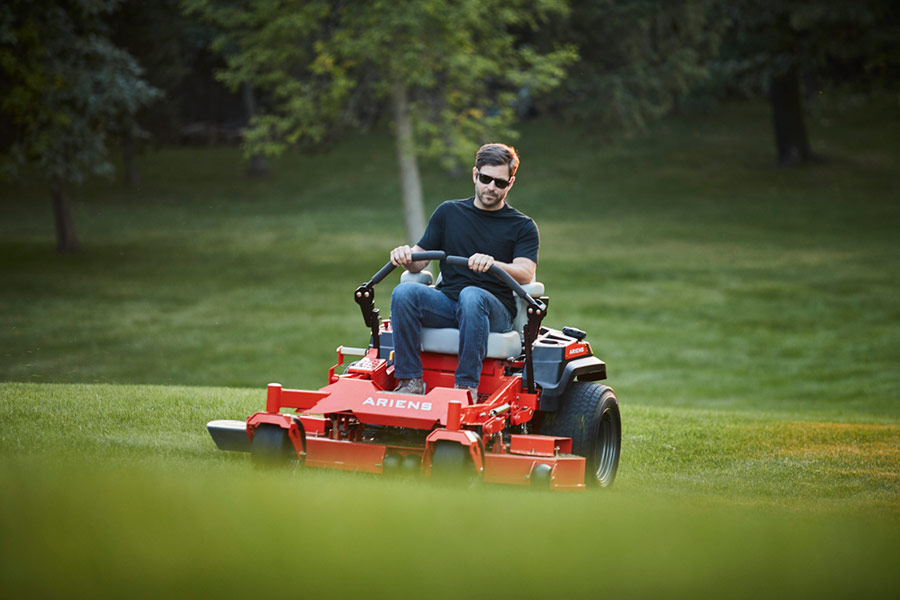 The Ariens APEX series represents the very pinnacle of zero-turn performance and is ideal for larger gardens. This commercial-grade zero-turn is available in two cutting width sizes - 48" (122cm) or 52" (132cm). A foot operated deck lift system ensures effortless adjustment between 15 cutting positions. Also included are fully adjustable handlebars, progressive steering and a plush, padded seat for comfort during day-long use.
There is also a 5.5-inch-deep cutting deck for superior airflow and an 18.9 litre fuel tank capacity that allows operators to cut longer with less refuelling time. The frame on this machine supports a folding ROPS option for added protection for the operator if required. Fitted with a Kawasaki® FR691 726cc engine, the APEX can achieve speeds of 8mph (4mph in reverse), ideal for cutting grass quickly.
As an added bonus, the attractive industrial styling of the APEX series appeals to modern homeowners who appreciate how Ariens has added a stylish touch to the look of mowing. A mulching kit is also available for this machine. The APEX series comes with a 3-year residential or 1-year professional warranty.
Ariens ZENITH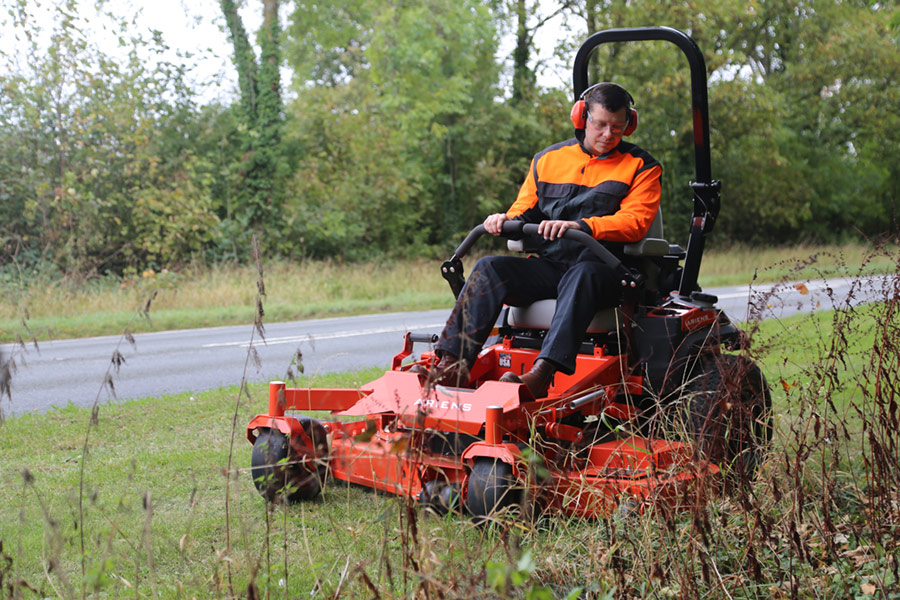 Designed with the professional in mind, the new Ariens ZENITH is the largest and fastest zero-turn in the range. Boasting a 60-inch cutter deck and a top speed of 8.5mph, the ZENITH is ideal for cutting large areas of grass. A durable, 10-gauge steel deck is designed with 14cm (5 ½") depth, providing optimal airflow in all mowing conditions for professional cutting performance.
A high-back, plush seat with padded armrests and seat isolation for all-day comfort comes as standard. Changing cutting heights between one of 15 cutting positions is done quickly with an effortless push of the deck lift pedal and a pull of a pin located within the operator's reach.
Power from a Kawasaki FX730V 726cc engine, a pair of Hydro-Gear ZT-3200 transaxles makes the ZENITH a robust, durable lawn mower for all serious landscapers. A folding ROPS comes fitted as standard. Ariens' constant belt tension technology on this mower gives a consistent blade tip speed that results in a cut quality expected of a professional-grade lawn mower. The ZENITH series comes with a 3-year domestic or 2-year professional warranty.
Still not 100% sure which is the right zero-turn for you? Speak to your local Ariens dealer to find the zero-turn that best suits your needs.